Everything was going great…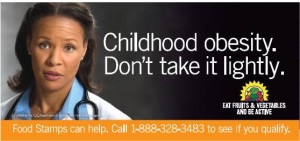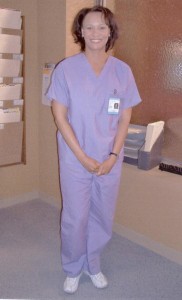 I had been selected from over 2,000 actresses to represent the state of California and the medical field as the doctor in the media campaign against childhood obesity. Billboards of me as "Doctor Cole" were everywhere with the commercial and radio spots running non-stop.  It was quite surreal.
To add to my TV medical career I had a recurring nurse role on a short live series Desire: Table for 3.
When I wasn't waiting on patients I was busy waiting tables in three national Budweiser Commercials. I was honored to be personally selected by legendary commercial director Joe Pytka for the role.  (I'd been hoping to work with him every since I saw him profiled a decade before on 60 Minutes.)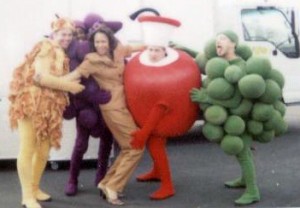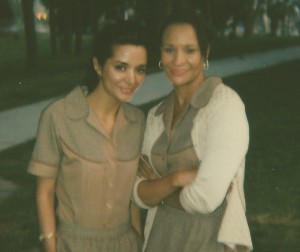 It was a very fruitful time. So when I found out I needed to have minor surgery to remove two uterine fibroids, I tried to time it to be in, out and fully recovered by the start of the new television season.
Suddenly nothing was the same…
On August 15, 2006, I entered Providence Saint Joseph Medical Center, a top rated hospital in the San Fernando Valley expecting to be home in two days. Unfortunately, I left the operating room with a fever, nausea, vomiting and pain which got worse over the next few days. (All classic signs of sepsis.) I was told I would not be going home and even a visit from the hospital Chaplain could not soothe my worries. Next came the flu-like chills, swelling and hardening of my red hot stomach.
During one of the dressing checks my mother noticed a tiny black dot near my incision. She asked the nurse about it and was assured that it was "nothing". However, the dot was not there in the morning when the doctor checked the incision.  My mom, feeling uneasy, asked the nur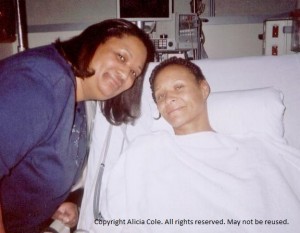 se to please call the doctor and ask him to come back to the hospital to take a look. After many sighs and condescending remarks, the nurse agreed to "bother the doctor for what is going to turn out to be no big deal."
Thank God my mother was confident enough to stand her ground and advocate on my behalf, because when Doctor Pearson lifted the gauze padding from my incision everything in my life had changed. In the hour and a half it took the doctor to return to the hospital the tiny black dot had turned into a quarter sized pustule!  He said, "If this is what I think it is, it's bad, really bad." And began calling for assistance from the nurse. After waiting and getting no reply, he looked at my mother and asked, "Are you squeamish?" then told her to put on some gloves.
Right then and there at the bedside, Dr. Pearson and my terrified mother proceeded to open up the incision, extend it out by about 2 inches on each side, cut open two rows of sutures and began to squeeze out pus and drainage.  I squeezed my eyes continuously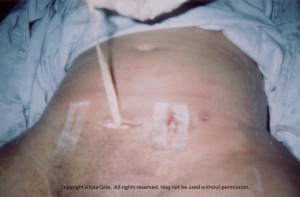 trying to wake myself up from this bad dream, only it was as real as it could be.  I gnashed my teeth and clinched my fist as tightly as I could to bear the pain.  Trying to be as still as possible, I groaned in agony choking back a scream that would surely move my abdomen and scare the life out of my father who was waiting outside my door.  When it was done, they packed my abdomen with gauze and taped me close. My mother then went into the hallway as 'surgeons' do, to give my father a report on what had just transpired.
With frustration and disbelief, my father spoke with the doctor demanding an Infectious Disease Specialist be brought onto the case. (Prior to this unimaginable event we had been informed by a concerned nurse that my plan of care was not progressing as it should.  She recommended in confidence the family ask for a specialist.)
Finally on August 25th, I was diagnosed with Necrotizing Fasciitis or as it is commonly termed Man-Eating Flesh Disease.  Five more operations were to follow strategically cutting away my abdomen and hip. I spent the next month in the ICU and it would be two months total before I was able to go home. The hospital plastic surgeon recommended placing a breast implant inside my left butt cheek to fill in the hole under a skin graft. At the height of the infection my surgeon prepared me for the fact that he might have to amputate my leg in order to save my life.  Thankfully I still have my leg, but I am never without some sort of discomfort or pain in my abdomen or groin.
I had contracted a preventable Hospital-Acquired Infection (HAI) or a nosocomial surgical site infection.  Nosocomial infections are those which are the result of treatment in a hospital, but secondary to the patient's original condition. I sadly learned that health officials estimate 2 million patients a year will acquire a nosocomial infection during their hospital stay.  Of those patients, over 100,000 will DIE. In 2003, the Society for Healthcare Epidemiologists of America warned that although hospitals have infection prevention programs, "there is little evidence of control in most facilities." I know this to be true.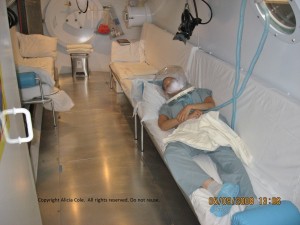 Although I was fighting multiple virulent antibiotic-resistant infections, I was never placed in strict contact isolation per CDC Infection Control Guidelines.  My hospital was later cited for both State and Federal violations of infection control and unsanitary conditions in their operating rooms. State inspectors said the hospital had "serious deficiencies," and federal officials said it did not meet Medicare's standards for infection control.
One nurse later told me that I was their 3rd patient with necrotizing fasciitis and the only one to live. So no matter what I have been through, I am beyond grateful to be alive. It's been a very long and painful road of recovery with doctor appointments and physical therapy every week since 2006. I am happy to say that I have received follow-up care from some of the best healthcare providers that medicine has to offer.  They are the reason I know that it is possible for health care to be delivered in a safe, compassionate and professional way. If you are a fellow survivor, just hold on. It takes time but you will get better! (But you have to stay positive.)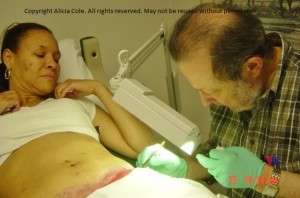 I could never have made it through this ordeal without holding onto my faith, loving family and supportive friends to keep me encouraged.
As a result of what happened, my life has changed completely. I now use my experience to spread awareness, help save others and to educate healthcare providers on the urgency of prevention and early diagnosis of hospital-acquired conditions.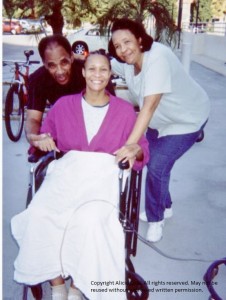 I have gone back to school and received a Post-Graduate Certificate in Healthcare Management and Leadership from UCLA so that I can better collaborate with administrators and policy makers. I now serve on the Infection Prevention Advisory Committees for the states of California and Wyoming and I was appointed to the Patient & Family Advisory Board of the respected Beryl Institute.
I believe God saved me so that many other lives could be saved as well. I am honored to serve out that commission.
Click on the title to read the report.