The Patient's Voice
"Alicia Cole has become one of the foremost effective patient advocates in the nation. She is a very passionate speaker who can both relate to and motivate an audience regarding the importance of providing safe patient care."

                                                                               Kevin Kavanagh, Board Chairman at Health Watch USA
Hospitals * Nursing Schools * Law Schools * Patient Organizations * Residency Programs * Advocacy Groups * Medical Schools * Associations   Government Agencies * Think Tanks * Women's Groups * High Schools * Legislators * Policy Makers * Non-Profits *  have all requested Alicia!
Many healthcare professionals speak on the importance of patient safety, evidence-based best practices, and patient-centered care.  None speak from the unique first-person Survivor perspective as does Alicia Cole.  Coupled with her experience as a public speaker and successful corporate spokesperson, Alicia's two month hospitalization, six additional surgeries, near amputation of her leg and the resulting nine years of aftercare, treatments and rehabilitation have certified Alicia as a true 'Patient Voice.'  Her multimedia presentations address issues ranging from engaging patients and families to depression and thriving after adversity.
Topics include:
What Patients Really Want                                            Collaborative Communication                                          Quality and Compliance                          
Care of the Caregiver                                                    Healthcare-Associated Infections                              Preventing Harm Across the Board
Transforming Culture                                                         True Patient Engagement                                           The Wonders of  Wound Care
Technology & Patient Engagement                                        Prepared Patients                                                                Patient Safety 
Attitude, Faith & Healing                                                 Transparency & Disclosure                                        Advocating for Yourself & Others                  
Systems Thinking for Better Outcomes                           Partnering With Patients                                             Necrotizing Fasciitis  & Sepsis
Becoming An Advocate                                                        Life After Medical Error                                               Social Media for Advocates
Safety Is In The Details                                                 Diversity In Healthcare Matters                                     Adverse Events and Depression
Medical Malpractice                                                         Surviving Long-Term Illness                                Thinking Outside the Traditional Treatment Box
Resources for Patients & Caregivers                  History of African-Americans in Healthcare                        Public Speaking for Advocates
"Alicia is an articulate patient safety advocate whose personal story is powerful and compelling. I have heard her engage diverse audiences around both the importance and the ability of healthcare providers to improve delivery of care. Her critical message includes the need to make certain clinical behaviors are evidence based, and to listen to the patient and actively involve them in the care team."

          ~Chris Goeschel, ScD MPA MPS RN FAAN, Assistant Vice President, Quality at MedStar Health
Some of Alicia's Activities Include:
Post-Graduate Certificate in Healthcare Management & Leadership,

                                                                 UCLA School of Public Health and UCLA Extension

Co-Lead Vulnerable Patient Populations Working Group,  CMS/ Partnership for Patients

Patient & Family Advisory Counsel, The Beryl Institute

Co-Sponsored and lobbied for passage of SB 158 and SB 1058,  "Nile's Law"

Voting Member of the California Dept. of Public Health's HAI-Program Advisory Committee

Member of the Wyoming Infection Prevention Advisory Group (WIPAG)

Patient Activist with Consumers Union Safe Patient Project

Member of California Safe Patient Network

Senior Advisor for the Patient Voice Institute
Today Alicia shares her story with healthcare professionals and medical students everywhere. Her incredible journey has been featured on ABC's 20/20, The Doctors, the Ask Dr. Nandi Show and Fox News.  She has been the profiled in HEALTH Magazine, Consumer Reports, HEALTH Leaders Media and the LA Times among many others.  From the depths of her healthcare tragedy, Alicia has risen like a Phoenix to become a tireless advocate for patient safety.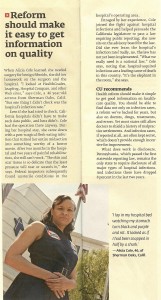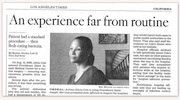 To see videos and additional information visit Alicia's Patient-Story page.
Book Alicia to speak at your next conference or learning event!