Is your doctor on PROBATION?
Well, there is NO WAY for you to know. In the state of California they do not have to inform you – no matter how restrictive the probation! My fellow advocates at the California Safe Patient Network and I, feel there is something VERY WRONG with that. We hope you do too!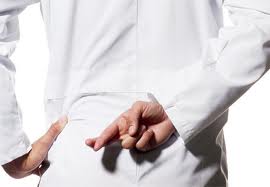 As it stands now, current regulations in the Board's Manual of Model Disciplinary Orders and Disciplinary Guidelines protects a disciplined doctor from having to divulge this critical probation status information. When it comes to transparency, everyone is informed EXCEPT the patients these doctors continue to treat.
Patients are LEGALLY left outside of the information loop.
The law – which the Medical Board can request be changed – requires that physician:
Provide a copy of the disciplinary decision and accusation to the 'Chief of Staff' or CEO at every hospital where the physician has privileges or membership.
A copy must be given to every facility where the doctor engages in the practice of medicine, and,
Provide a copy to the CEO at every malpractice insurance carrier, which issues them coverage.
Everybody is invited to the "Protection Party" but the doctor's patients.
At the Medical Board's Quarterly Board Meeting in October 2012, the Board's own staff presented a draft of its Medical Board Sunset Review Report recommending that this law be changed and the Board shot the recommendation down. Advocates from the CA Safe Patient Project have asked the board several times during 'Public Comment' to revisit this issue, to no avail.
The purpose of the Medical Board of California is to use its licensing and regulatory functions to protect health care consumers by assuring that California physicians provide quality medical care.
We demand that the Medical Board amend its guidelines to make it a Standard Condition of Probation that physicians who continue to see patients while under a Medical Board disciplinary order – such as probation or restriction of licenses – be required to inform their patients of such order.
Please join us and send your letters of support to:
Governor Jerry Brown
California State Capitol, Suite 1173
Sacramento, CA 95814
Senator Ted W. Lieu, Chairman
Senate Business, Professions and Economic Development Committee
State Capitol, Room 4061
Sacramento, CA 95814
Kimberly Kirchmeyer – Executive Director
Medical Board of California
2005 Evergreen Street, Suite 1200
Sacramento, CA 95815
Senator Barbara Boxer
Office of U.S. Senator Barbara Boxer
501 1 Street, Suite 7-600
Sacramento, CA 95814
Councilman Curren Price
L.A. City Council
200 N. Spring St., Room 420
Los Angeles, CA 90012
Jennifer Simoes, Chief of Legislation
Medical Board of California
2005 Evergreen Street, Suite 1200
Sacramento, CA 95815