I'd like to give a public "Thank you" to the wonderful folks at the Institute for Healthcare Improvement (IHI), the Partnership for Patients (PfP) and the team at Weber Shandwick for the opportunity to attend the 25th Anniversary, IHI National Forum in Orlando.  It's been a great week!
I got to collaborate with committed advocates that I know and admire like Patty Skolnik, Pat Mastors, Linda Kinney and Jean Rexford. I also had the opportunity to meet some amazing new powerhouses that I look forward to working with in the near future. (ePatient Dave deBronkart, Alicia Staley, Randi Oster, to name a few.)
The conference was inspiring and the Keynote addresses thought provoking. I am looking forward to incorporating the things I learned into my work going forward.  But the cherry on top was the ending to my National Forum experience.  I couldn't have scripted it better if I tried!
I was sitting in the hallway gathering myself after the final keynote.  Suddenly, a woman who heard me speak in Boston last month on a Patient & Provider Panel Discussion organized by Pat Mastors for the Connected Health Symposium, came up to me. She said she'd wondered why there wasn't more patient interaction at the event and she'd jotted down a note to reach out to me with information to connect to the IHI.  (I smiled.)
Just then, Maureen Bisognano, CEO of the IHI walked by and came over to greet the woman with a hug.  Turns out they knew each other.  Chris turns to introduce me and says, "This is Alicia – she's your Keynote Speaker for next year. I heard her speak in Boston and you've got to have her present to the whole group."  I was stunned… and pleased!
So I say, "Hi Maureen, I'm Alicia Cole, one of the guest Patient & Family Advisors."  To which she responds, "Yes, I know you.  You were with us once before. We're glad to have you back."   As you can imagine I was ecstatic so I asked if we could take a picture together and Maureen was only too happy to oblige.
Suddenly she said, "Oh look.."  and this is the Question Board we were standing next to:

Before I knew it she grabbed a marker and said, "Well here you go. Now you're on the list."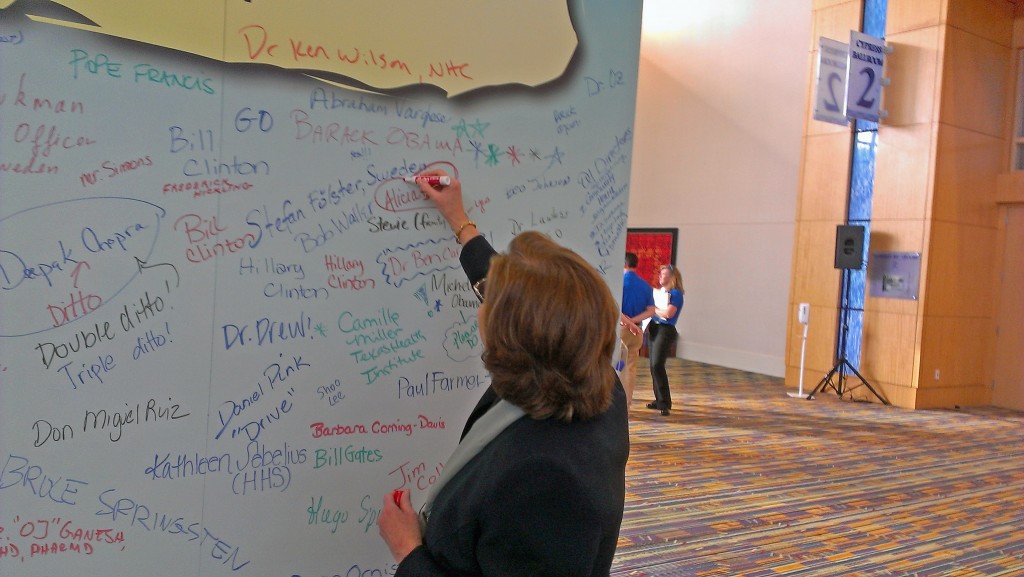 It was the sweetest thing she could have done.  I couldn't believe it.
We three stood and chatted for a while and I told her about the amazing video presentations that took place for our Speaker Training.  I let her know that there was a wonderful goldmine of talent she would be please to discover when she watched the videos.  She said she couldn't wait.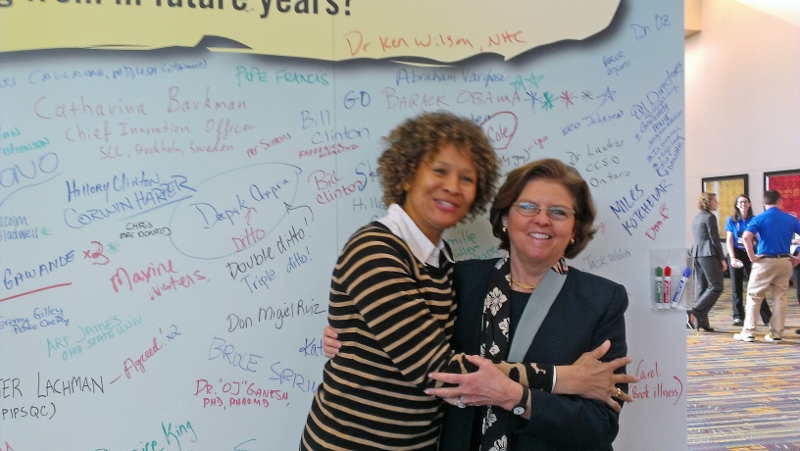 We hugged and she went along to get some much needed rest I'm sure.  It was the PERFECT ending to my conference!  I couldn't have planned it better if I tried.  (Thank you Maureen for the lovely gesture.)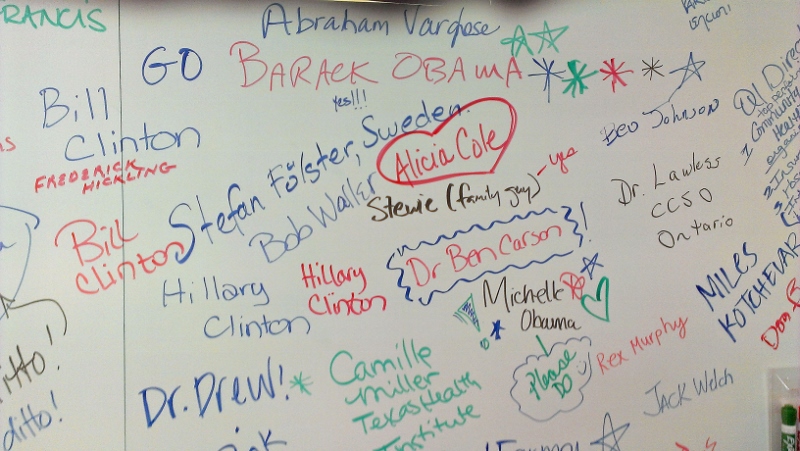 And as for my name on that board… well I'm just going to take that as a sign and call it Maureen's prophesy!!
That works for me.